YOU TUBE: HARMONY HOUSE SILEKSHAN
As some of you know, I have started my
Harmony House Silekshan
YouTube video channel. This channel, I think, is a great addition and it will give you a better view of certain releases when browsing this Harmony House discography.


So far I have added several songs and will continue to add even more. Entries in this discography that have a YouTube song, are marked with a

behind the song title. By clicking on it, your browser will open a new tab for the song to play.
New songs will be added on a regular basis, so if you want to stay updated make sure to
subscribe
to the channel. If you haven't got a YouTube account yet, you can set one up very easy.
Create one
with any email you have and you're set. You can now subscribe to any channel you want and stay up to date with your favourite music and video's and you can even upload your own, whenever you like.
BERES HAMMOND & LADY SAW: SHE HAS CHANGED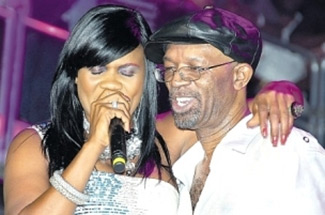 Lady Saw and reggae crooner Beres Hammond sizzled on the Sumfest stage last Friday as they delivered an emotionally charged performance of "She Has Changed", a tune penned by Lady Saw. There was no missing the deep emotions expressed as the two put their all in bringing the words of the song to life.
At the end the two received loud cheers from the crowd who knew they had witnessed something special. In a follow-up interview about the song, Lady Saw said she was inspired to write the song through a personal experience she had.
Read more ...