BERES HAMMOND & LADY SAW: SHE HAS CHANGED
Lady Saw and reggae crooner Beres Hammond sizzled on the Sumfest stage one Friday as they delivered an emotionally charged performance of
She Has Changed
, a tune penned by Lady Saw. There was no missing the deep emotions expressed as the two put their all in bringing the words of the song to life.
At the end the two received loud cheers from the crowd who knew they had witnessed something special. In a follow-up interview about the song, Lady Saw said she was inspired to write the song through a personal experience she had.
"I wrote it because of certain little girl from the country"
, she said, adding that she literally watched a sweet girl transform into an uncontrollable teenager who just wanted to roam the streets and visit massage parlours.
"I know many girls who have been sexually abused. I spent a part of my life in the ghetto and I could write a book on the things I've seen and heard about"
, said the singjay born Marion Hall.
"My young friends talk to me about what they have been through — victimised, abused — so they take it to the next level thinking that no one cares"
, commented Lady Saw as she expressed her disgust at the abuse being meted out to the children.
"All the people murdering kids, look at the six-year-old that was raped and killed. I can't like that, I have to write"
, were the impassioned comments coming from the deejay who is equally known for her raunchy side, as well as teddy bear soft, heart of gold alter ego.
Beres Hammond was the perfect fit in recording
She Has Changed
with her. According to Lady Saw he has always been in her corner.
"I love Beres, for years I have been a big fan"
, she said laughing, relating how Hammond always tried to keep her on the right path.
"Beres is always telling me 'you're gonna lose your soul, if you continue on this slack song path'"
, she reminisced.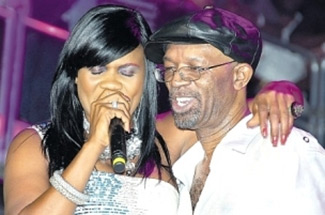 She finally approached Hammond after he came to see her perform at Studio 38.
"When I saw him and knew that he came to see me, I said to myself, Beres really loves me the way I love him!"
After the show Lady Saw said she approached him and told him about the single and that she would like them to collaborate on the single. There was no hesitation as Hammond told her to take it to his studio — this she did and they started vibing the same night.
"Beres is a real genius in the studio. He just took charge. You should hear him, 'you step back, Marion take it from here...'"
, related Lady Saw, the awe still evident in her voice.
She Has Changed
was recorded at Harmony House and mixed by her beau John John and enjoyed its official release in 2014.
She Has Changed
is the first single from her album Marion Hall — The Alter Ego.